Play By Email Gaming
| | |
| --- | --- |
| What's Here: | Link to the Emporium |
There's not much MORE I could say about the hobby of playing games via electronic mail than what I contribute through the maintenance and upkeep of my PBeM site, the Play By Email Emporium. I suggest you click the link to go there if you are interested!
GO TO THE PLAY BY EMAIL EMPORIUM

CURRENT PBeM Games I'm playing in:
Bottle of Rum MAP LINK
Circus Maximus V: via Boris the Spider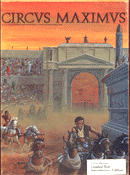 Current Picture (I'm "Rufus", the Red Chariot)
Swords and Sorcery: with Steve Mariner
Pending... scenario one, I'm the Valley side.