WHO MURDERED CHAUCER? by Terry Jones
Mood:
celebratory
Now Playing: Django Reinhardt's Greatest Hits
Topic: Book Review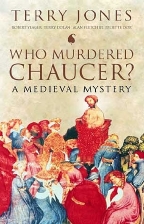 Most of us remember Terry Jones as "the Nude Man" from Monty Python's Flying Circus, or "King Pellinore" from Monty Python and the Holy Grail, or Brian's obnoxious mum in "The Life of Brian". So it's hard to grasp that that same Terry Jones who used to dress in drag and make silly faces on TV is really quite a gifted and clever author, and a learned fellow to boot. I had some prior experience with Jones' kid's fiction: ERIK THE VIKING, NICOBOBINUS, and one of his history books: CHAUCER'S KNIGHT: A MEDIEVAL MERCENARY, so I knew what he was about.
Jones' book works on the central premise: Geoffrey Chaucer, court poet of the unfortunate Richard II of English History, was a famous man, perhaps the liteary voice of his age (though I personally think Jean Froissart could have given him a run for his money). His work was famous
in his lifetime
, a literary feat almost unheard of in an age where books were copied by hand. When he disappears from history, he was neither young nor terribly old by the standards of the day; and no mention is made of this celebrated individual's passing by fair means or foul.
How, then, did Chaucer die? Jones' opinion is that he was murdered, that much is clear from the title. The reasons why are a mystery and Jones can only produce enlighted guesses as to motive. If you are reading this novel merely for another period-piece mystery, you will be disappointed. There is no costumed villain. However, it is a great history book for all of that; Jones has a wondeful literary style that describes the period in everyday langauge that makes for a fun read.
Not so much a murder mystery as a survey of the middle of fourteenth century English society, WHO MURDERED CHAUCER? is a bright, fun engaging book. I loved it.
Posted by mrnizz at 12:56 PM EST
Updated: Thursday, 9 February 2006 12:58 PM EST