LEAGUE OF EXTRAORDINARY GENTLEMEN, VOL 2. Comic Hardbound, by Alan Moore and Kevin O'Neill.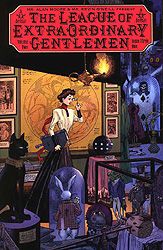 I've always enjoyed Allan Moore's efforts, from the days of THE WATCHMEN onward. The League stories are my personal favorite, as I have a love for the Victorian era. Volume One in this series concerns the creation of the League and their subsequent fight with Fu-Manchu. Vol. 2 takes on the WAR OF THE WORLDS story and the League's response to a Martian invasion. As always, very well-written and intricate prose, though I thought the plotting was a tad conventient.
The initial sequences, which take place on Mars itself (starring John Carter(!) of the Burroughs series) are worth the price of the book alone!
Try it!
Posted by mrnizz at 12:38 PM EDT